Ways To Give
As we strive to end hunger in Niagara, we are determined to extend our meal programs into the Spring and Summer months. This means providing lunch every day of the week, year-round, with the ultimate goal of providing lunch AND dinner to our guests every single day!
We invite you to join us in offering this special gift: We are turning to individuals, families and businesses for help within the community.

Did you know that 4 million people in Canada experience food insecurity?

There are a variety of factors that play a role in the struggle for 1 in 8 households to put food on the table, and so it is with compassion and hard work that we can collectively END HUNGER in Niagara!
---
---
How can you help the Soup Kitchen?
Organize a corporate team event to serve a meal
Fundraise to provide meals for an evening (approx. $600.00)
Serve/fund-raise in honour of a special person or loved one
For more details, please contact Bonnie Brady at bonniebrady1551@gmail.com
---
---
Good Samaritan Monthly Giving
Regular monthly giving would be most helpful since costs are consistent throughout the year.

$10 per month provides 50 meals a year.

A monthly giving plan may be set up online with CanadaHelps in the above form. Our expenses include items such as groceries, utilities, insurance, repairs and maintenance on appliances and upkeep of the building. Every dollar counts and is used wisely!
---
---
Special Occasion Donations
Consider giving a one-time "donation gift" in honour of a birthday, anniversary, or special day for those friends who "have everything". We will send them an appropriate greeting card, to let them know of your thoughtfulness, while you get the receipt! Make sure to include the name, address and type of occasion along with your cheque (please allow a minimum of 2 weeks notice).
---
---
A Memorial Donation
This is a meaningful way to honour a loved one or friend. Consider making us your Charity of Choice. Please provide the name of the person you wish to honour along with family contact information. We will notify them of your thoughtfulness and you will be receipted at the end of the year.
---
---
Our Wish List
You can help by providing any of the following items: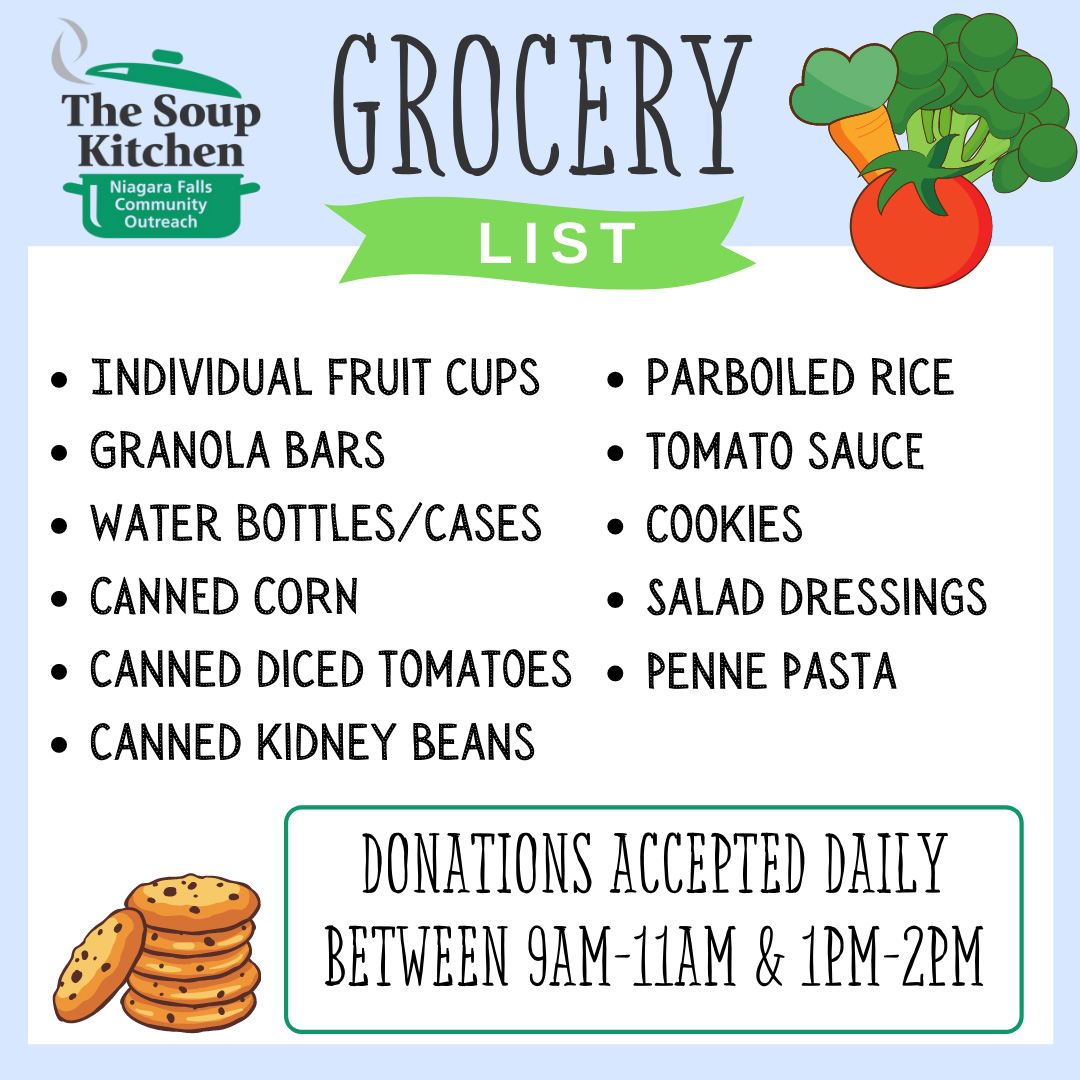 ---
---
CASH DONATION
We are a registered charity with Revenue Canada. All cheques should be made payable to:

Niagara Falls Community Outreach
4865 St. Lawrence Avenue
Niagara Falls, ON
L2E 3Y1.

Official receipts for income tax purposes will be issued at the end of the year for in-person, cheque and cash donations.

CLICK HERE TO MAKE AN ONLINE DONATION